Ludhiana Apostille Service in Ludhiana | Apostille Attestation Service in Ludhiana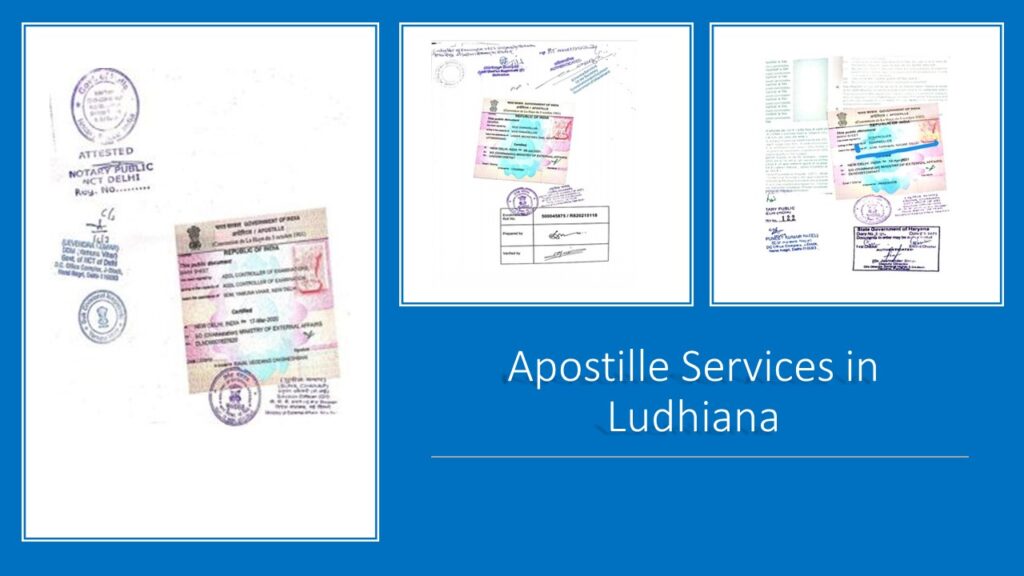 Apostille Service in Ludhiana | +91 – 8178554578 | We provide Document Apostille services in Ludhiana at very affordable prices and in minimum possible time.
An Apostille attestation service is a streamlined type of global documentation utilized by the Hague Convention nations that authenticates the origin of personal, educational or commercial documents. Apostille can only be issued for documents issued in one country party to the Apostille convention and that are to be used in another country which is also a party to the convention. Essentially, Apostille attestation is an international attestation that is acceptable in~ 112 countries, and most of the western world recognises Apostille attestation service.
India is a signatory to the Apostille convention; and has designated the same authorities for authentication of documents for Attestation as well as for Apostille attestation services.
We Undertake Apostille Attestation For All These Below Mentioned Educational Certificates.
Apostille attestation service for Degree & Diploma Certificate in Ludhiana
Apostille attestation service for Nursing Certificate in Ludhiana
Apostille attestation service for SSLC &  HSC Certificate in Ludhiana
Apostille attestation service for Engineering, Pharmacy & Dentist Certificate in Ludhiana
Apostille attestation service for Birth, Death, Singlehood status,  Divorce & Mariage Certificate in Ludhiana
Apostille attestation service for Medical, Experience/Employment, Transfer, Salary Certificate in Ludhiana 
More on Apostille service
An Apostille is simply a certification of Document issued by a legal or registered authority in a country. If a document is Apostilled it shows that the document is verified and it is legal to use in the country to which it is Apostilled. For each country there is a different Apostille. List of countries where the Apostille is Accepted as the highest order of legalization are known as The Hague Nation Convention
It is  a special 'sticker' issued by the Ministry of External Affairs in on your document. This sticker is attached on the backside of the original document signifies that the document is legitimate and authentic. Apostille is acceptable in 113 member-countries of the Hague Apostille Convention.
It is a type of attestation in which documents are legalized in a particular format that is acceptable in all nations that belong to the Hague Convention.
Essentially, when your documents are Apostilled, it gets a stamp, that is of a square-shaped. It is a computer-generated sticker stamp which is pasted on reverse of the document by the Ministry of External Affairs, Government of India.
The square sticker stamp is always a unique computer-generated stamp having a unique identification number. Through this unique identification number, any member country of The Hague convention can check its authenticity online.
Since an Education certificate is often found in the regional language of the state in which you or the person for whom the certificate apostille is required is born, it becomes essential for foreign personnel to clearly understand it or even to believe that it is an authenticated form of a document.
Due to the same reason, Education certification apostille is required.
Mainly following are some of the reasons when the Education certification apostille is necessary,
When traveling on work VISA
When traveling on deliendent Visa (wife or husband)
For kids schooling in a foreign country (Schools need a Education certificate of your kids to get them admitted in school).
When allaying for a Student visa (Universities & consulate need this to verify your age)
How to get Education certificate apostille?
Generally, there are two ways of getting apostille to any certificate.
State authentication + MEA apostille
SDM authentication + MEA apostille
Every document in India belongs to one of the states or union territory, You need to get state authentication first.
Firstly, it is wise to check whether your destination country belongs to the Hague nation list or not. In case it does not belong in the list or let us consider that the country you are traveling in is Austria or Italy you must get state attestation.
Not only this, but you also need to keep in mind that if your document belongs to the states of Punjab, Ludhiana, and Goa you have to get state attestation regardless of whether your destination country belongs to Hague nation or not.
A Marriage certificate is an inescapable document requiring authentication overseas if you are sponsoring your spouse's visa. No expat can apply for a spouse or fiance visa without a marriage certificate. The concerned government official needs evidence to prove the authenticity of your relationship and an Apostille marriage certificate confirms the lawfulness of your marriage overseas.
The Ministry of External Affairs (MEA) has the sole ownership in India authenticating Indian-originated certificates with Apostille stamp. However, one can't directly apply for the Apostille attestation. The Ministry has outsourced a few agencies who can submit documents on the applicant's behalf. Applicants can't visit the MEA branch directly for Apostille.
A birth certificate and all other Indian personal documents are Apostille by the Ministry of External Affairs, Government of India. The MEA has opened its Branch Secretariats/RPOs in numerous cities of India for easing this whole procedure for Indian citizens, including Ludhiana, Ludhiana, Ludhiana, Ludhiana, Ludhiana, Raipur, Bhopal, Kochi, Mumbai, Trivandrum, Panaji, Ludhiana, Ludhiana, and Bengaluru. Also, search for MEA outsourced agencies in your region for submission and collection of the documents for Apostille.
The Ministry of External Affairs apostilles a document within 1-2 business days, however the time taken for the completion of document Apostille depends upon the type of document and state government departments. Since a document is authenticated by several government departments, it can take from 3 to 5 or more business days to get Apostille. Educational documents usually take more time as compared to other documents.
The Ministry only attests to the original copy of a document, and all photocopies will be rejected. Any fraudulent document will be confiscated by the MEA, and strict actions will be taken against the particular individual. Submit the original copy of the document along with a copy of Passport to any of the Branch Secretariats or RPOs of the MEA for Apostille.
For for information, feel free to connect with us 
For Admission in Italy related Documentation and Legalisation, visit our subsidary : Documentation for Italy and Pixel Consultancy