Birth Certificate Apostille in Noida & Birth Certificate Attestation in Noida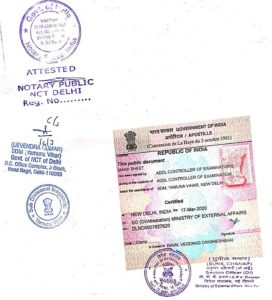 +91 – 8178554578 / 9971294347 Birth Certificate Apostille in Noida & Birth Certificate Attestation in Noida: A birth certificate is required for visa transfer or for getting a family visa. The birth certificate is also helpful for those people who wish to go abroad for higher studies. The birth certificate needs to be attested to verify its authenticity. The attestation process helps get your birth verified and thus makes it easy for any foreign education institution to give you admission.
Attestation provides validation of an individual's birth certificate's generic credentials, like their name, date of birth, place of birth, parent's name. It helps get approval from the home government to allow you entry into another country.
The attestation process legalises and verifies birth certificate information and provides assurance to an institute or Govt abroad of its authenticity.
Birth Certificate attestation is needed for
Immigration to another nation
Higher study in overseas universities and colleges
Family or Residence visa
Getting a scholarship in overseas
Sometime for job or exchange visa
LTPL Attestation services help make various procedures frequently demanded much more convenient affirming customer convenience. We ensure that we provide specific and legitimate services by introducing you to access staff and cooperative service. You have to fill in the service's details that you need, submit your original documents, make payment online, and you are done. While you relax, we'll provide you with the stamped certificates and translated documents as per your necessity.
Birth certificate Apostille in Noida
Birth certificate Attestation in Noida
Birth certificate certified translation in Noida